We are conducting an estate sale for Douglas and Kaye Minnich of Grand Meadow MN
Doug and Kaye lived in the family home since 1968 and raised 3 children there.
Doug worked for Featherlight Trailer as a mechanic, owned Doug's Appliance Services, and enjoyed woodworking.
Kaye worked at Methodist hospital and later at the nursing home in Grand Meadow. Kaye enjoyed collecting items when she traveled and has a beautiful collection of porcelain dolls.
We hope you can join us for this sale in Grand Meadow MN
408 Main Street S, Grand Meadow, MN
Estate sale for Douglas and Kaye Minnich includes:
Furniture: Reclining loveseat, armchair, hanky dresser, dressing table, chest of drawers, kitchen table and 4 chairs, dining table and 4 chairs, bookcase, lamps
Antiques and Collectables: Large doll collection, (e.g., Porcelain Gappeddo, Madam Alexander); milk glass dishes and accessories; Santa bears
Household: small appliances; decorative knick-knacks; paintings and wall pictures
Miscellaneous: Costume jewelry; Men's ball caps; patio set; fire pit; grill; compost bin
Garage/Shed: Tools and more tools; woodworking tools-table saw; router; standing grinder; grinder; chain saw sharpener with lamp; old windows; chop saw; hand tools; drill sets; old motors; automotive items; hunting clothing and accessories (deer target), mounted deer antlers from hunts; clay pigeons; garden items (seeder; pots; etc); sump pumps, hammer drill, drill press, 2 bench vises; electric fireplace insert
August 28th and 29th

one-day pop-up sale
July 24th 8 am to 4 pm
Quick pop up sale to rehome dad's stuff. He couldn't take it with him, so this is your opportunity to find a treasure at amazing prices.
Electric wheelchair-toggle control, collapsable for travel
Furniture: Happy sleeper Queen Bed, solid wood headboard and metal frame on wheels; roll top desk; buffet opens to 84 inches; end tables; kitchen chairs; 2 office chairs
Misc: many original oil on canvas paintings, other framed pictures; bird statuary; knickknacks; home décor; kitchen dishes, glassware, pots, and pans; old and new suitcases; all of the usual household items, this is a small estate sale.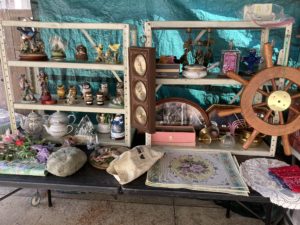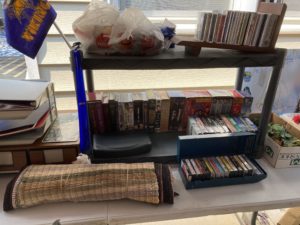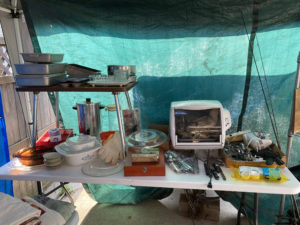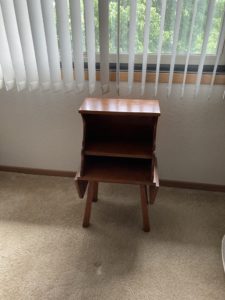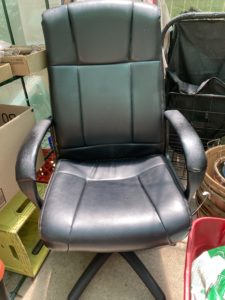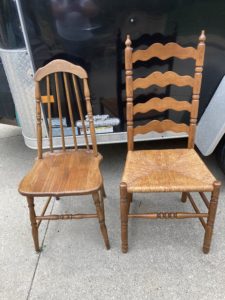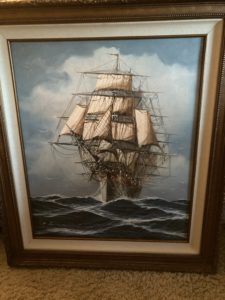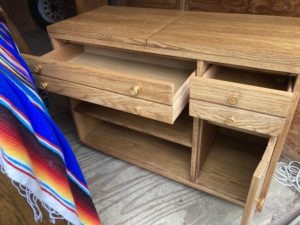 Living Estate sale for Ted Fenske
505 28th Street SW Rochester MN
Saturday, June 5th, 9 am to 4 pm
Sunday, June 6th, 10 am to 3 pm
Living Estate sale for Ted Fenske includes:
Furniture: Dresser; chest of drawers; dressing table with XL mirror; 2 side tables with 3 drawers; pair small octagon end tables; twin bed-headboard, frame, mattress and box spring; electric recliner; small recliner; pair vintage armchairs with footstool; square end table; many lamps-tall, short, brass, glass; 2 sofas/couch/davenport; curio cabinet; Lane cedar chest;
Antiques and Collectables: Casino size slot machine; die-cast cars by MaiSto, hot wheels, Motor Max; watches; advertising pieces; Pyrex bowls; painted ponies; porcelain eggs; 1962 Kenmore sewing machine in cabinet; Pabst Blue Ribbon bar light; vintage portable record player
Household: Vintage set Wellington Classics daisy stoneware dishes includes serving pieces; pots and pans; many cutlery sets; bedding; knick-knacks; small kitchen appliances;
Clothing and Shoes: Men's jackets, shoes, boots, glove
Miscellaneous: Karaoke machine; pictures and frames; basic home item
Garage/basement: Duracraft drill press; grinders; air compressor; vintage metal shop table; vintage metal rolling shelving unit; hand tools-lots of hand tools; ladder; seed spreader; 2 lawnmowers; electric chain saw; large wheelbarrow; garbage disposer;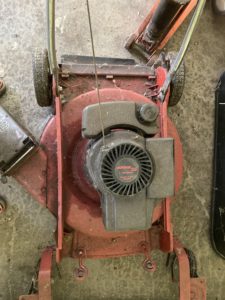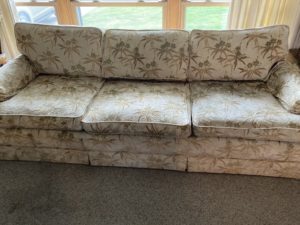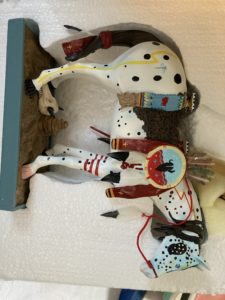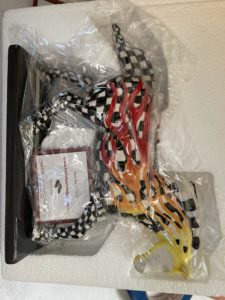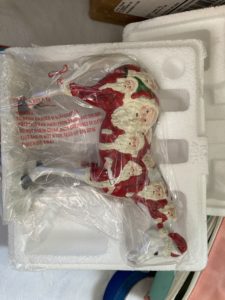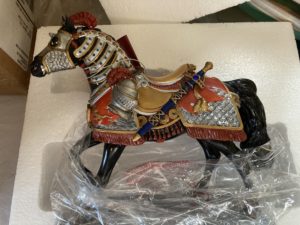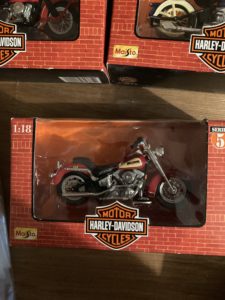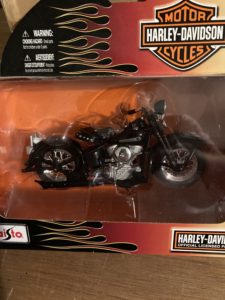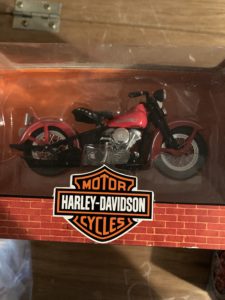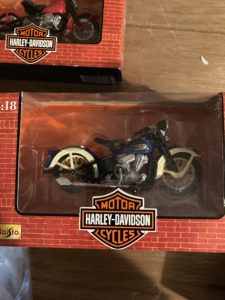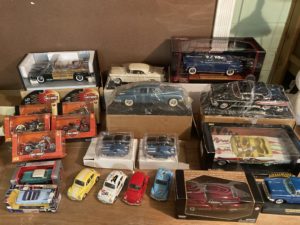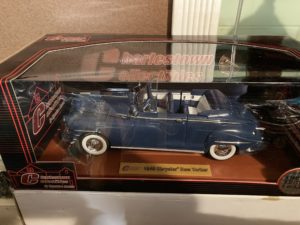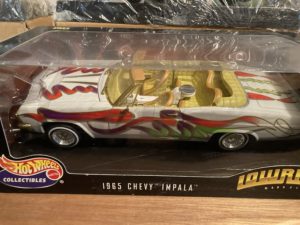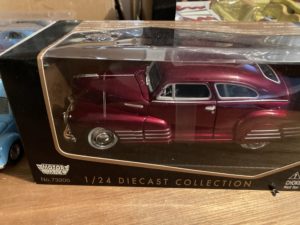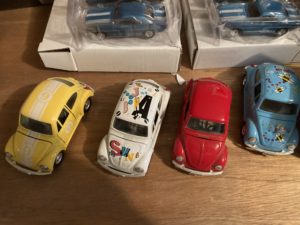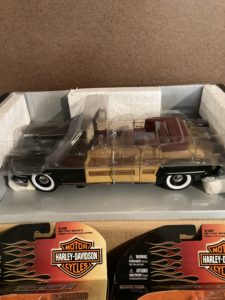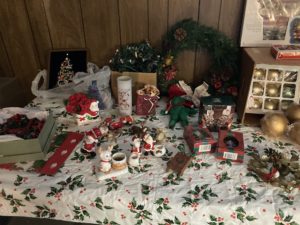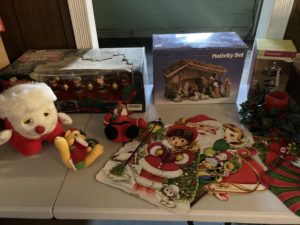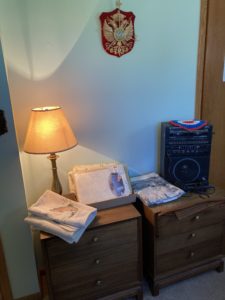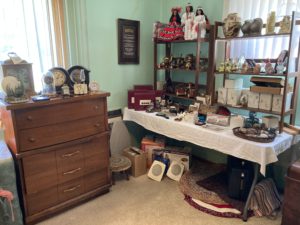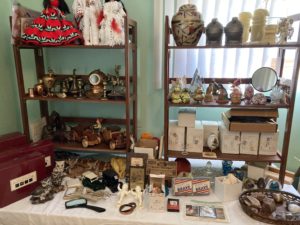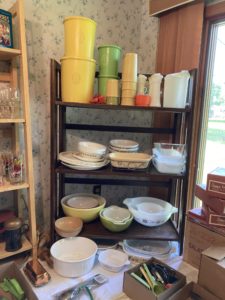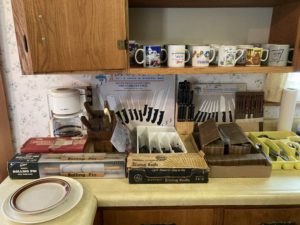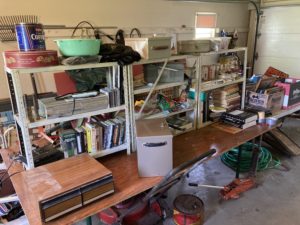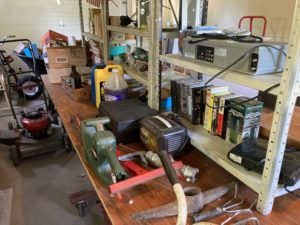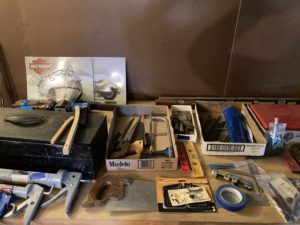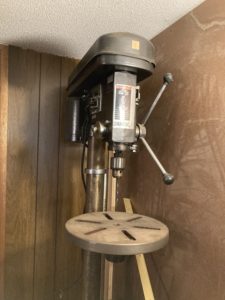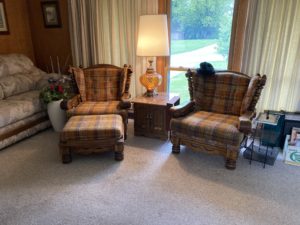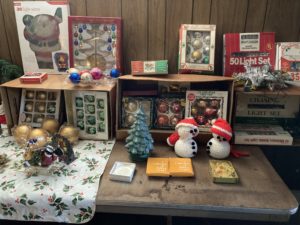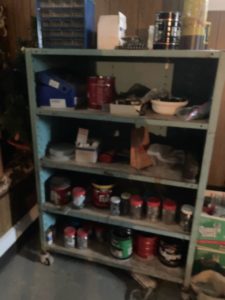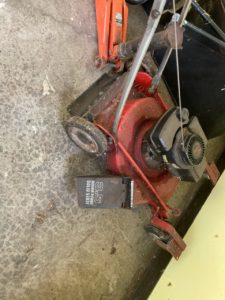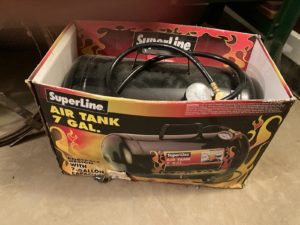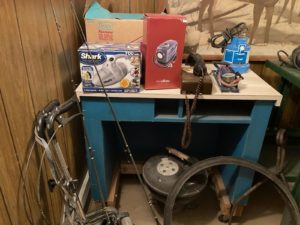 Marietta Andrist Living Estate Sale
Saturday, August 29th, 9 am to 4 pm and Sunday, August 30th, 10 am to 3 pm
Furniture: Coil Core By England full sofa, loveseat, and ottoman with storage; HappySleeper double recliner; 9-foot sofa; 2 full beds; 1 queen bed; large dresser with mirror; small chest of drawers; Asian black lacquer mirrored dining room table with 6 chairs, 1 leaf, and china hutch; bamboo coffee table and 2 end tables; older rattan sofa set, sofa, love seat and ottoman; oak entertainment/display; curio cabinet; other small tables chairs and decor
Antiques and Collectables: Taxidermy fish; state spoons; HO train set
Miscellaneous: Crafts: scrapbooking, sewing, knitting; household; glassware; barware; Christmas and holiday décor; music and movies LP albums, DVD, cassettes; standard household items
Garage: Hand tools, wood ladder, 5-foot step ladder; garden bench, glider swing; workbench; old cabinets; yard statues and décor; gardening items; canning jars; much misc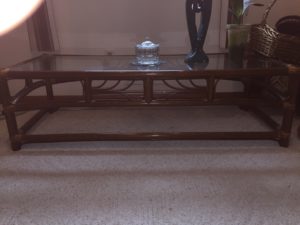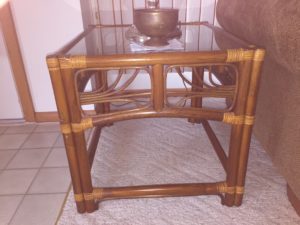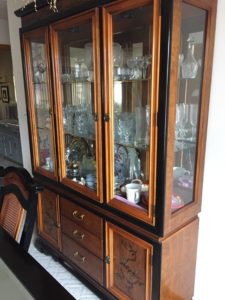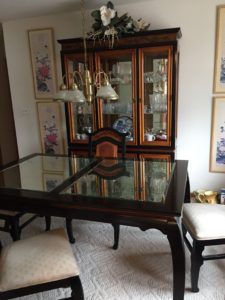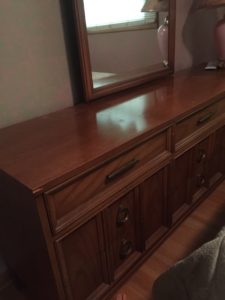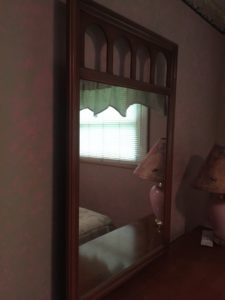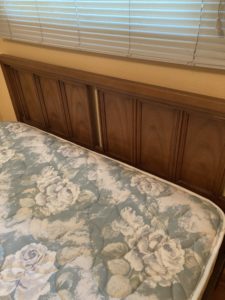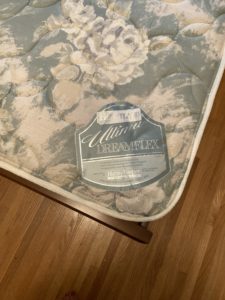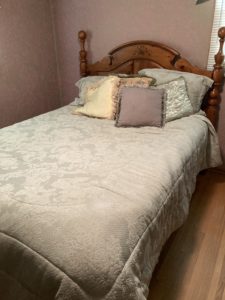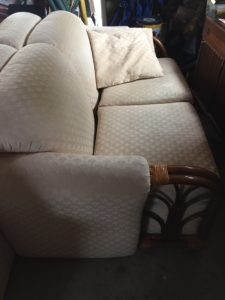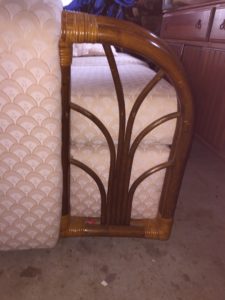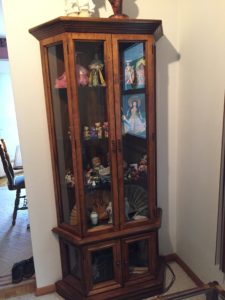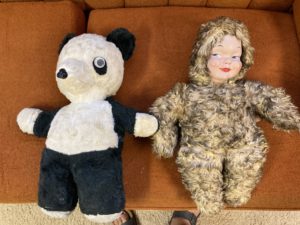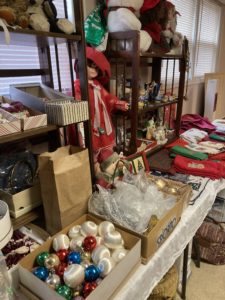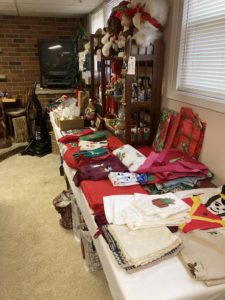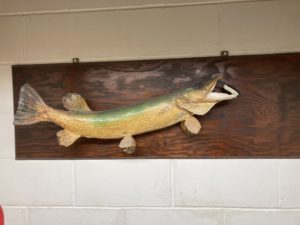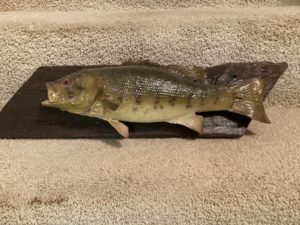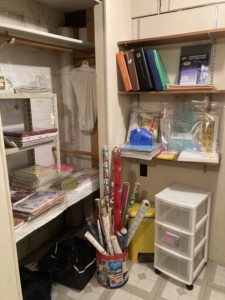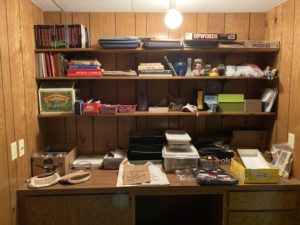 Sally and William Reese Estate Sale
Antiques and Collectables: Vintage Hudson Bay 4 point, 3.34 point, and 3.5 point wool blankets; Airline collectables and memorabilia including silverware; Red Wing pottery, large go-along serving bowl and platter, Bob White cup, tall vase, set of 11 Golden Viking pattern small bowls; older Life magazines; collectors plates including Hummel, Currier and Ives, Royal Copenhagen, Bing and Grondahl, Danish, blue and white; many cameras, radios, binoculars, and slide viewing equipment; large selection of collectable beanie babies; extensive collection of pocket-knives; many NEW old-stock items still in original packaging; wood crates and boxes
Clothing and Shoes: Vintage Hudson Bay red 5-button ladies jacket; Mens Pendleton plaid shirts, many flannel and wool mens jackets and shirts; New-In-Box shoes, ladies size 8-9 and mens size 10-10.5; mens vintage baseball/trucker hats; lots and lots of women's and men's clothing
Miscellaneous: JC Penney's Polar Nite Golden Down wool blanket, 2 wool rugs with southwest design; vintage suitcases and totes; 3 vacuum cleaners; small electric fireplace; electronics items, receivers, radios, turntables, etc; 5 cu freezer, small dorm Haier refrigerator; Sentinel 10 gun safe; vinyl records, tapes, DVDs, VHS tapes; books; several coolers including 2 vintage Coleman steel coolers; many small kitchen appliances, toaster oven, indoor grill, electric can opener; several storage boxes and tubs; 3 sinks; several storage totes; 4 moving/storage wardrobe boxes
Garage/Sheds: 20 foot metal extension ladder; little giant metal ladder; table saw; Craft tool chest; Stanley tool chest; propane heater; hand tools, garden tools and supplies; fishing gear and poles; 2 chain saws; many miscellaneous gadgets and gizmos